Tuesday, 4th January 2016

KEY MANAGEMENT ISSUES
Much more detail can be found by clicking the links contained within the various sections. To keep the file size small, some information is omitted from the downloadable notes.
Get on top of our water issue is our top priority, almost 2 weeks with problems. Reviewing and reinforcing our in paddock staff procedures has helped reduce it a little so now we can focus on the water supply aspects of the issue.
The young grass paddocks that got sprayed for weeds prior to Christmas have shown a good kill off of weeds and with the application of fertiliser applied they are already contributing to the round, almost 6 weeks sooner than last season. Spraying out the weeds was a significant management shift for SDF as we normally mow them and hope for the best. Weed burden in these paddocks was significant this season which has forced this change in practice.
Strategic use of both pre and post graze mowing to assist with maintaining and improving pasture quality as we head into summer. With covers staying below target we are aiming to minimise any mowing at all…read more HERE.

Weekly pasture assessments and detailed analysis of the data versus what is happening on farm will see us keep an accurate inventory of pasture and feed on hand to continue making timely decisions.

Continue to ensure task planning is timely and accurate to minimise unnecessary extra work so that the holiday period can be managed successfully while still keeping on target with the workload. Record time spent in the SDF App so analysis can be done quickly, easily and accurately to remain compliant and productive.
The remaining 56 calves left on farm are aiming to stay there as long as possible, 1st May ideally. Being a bit lower stocked than normal, we expect to be able to feed them on farm, however feed available to cows is still a priority so it is a week by week discussion.
Weekly walks over the fodderbeet paddocks to ensure timely and appropriate action can be taken against weeds and pests. Most of the paddocks are nearing canopy closure so we will be flying on the first dressing of fertiliser for them as soon as they are able.
KEY POINT SUMMARY
Download the full datasheet HERE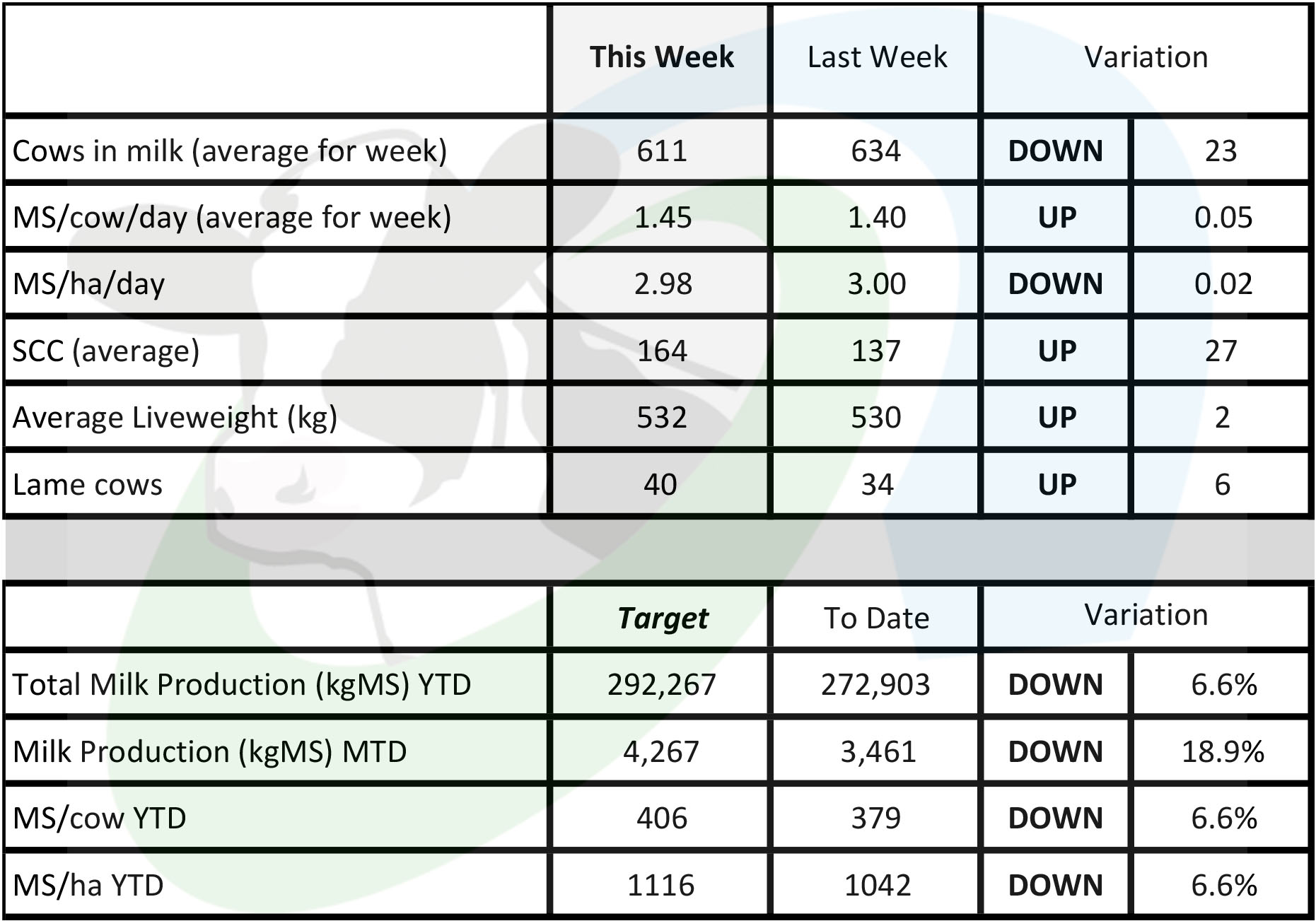 Download the full notes here
OR CLICK ON A TOPIC FOR MORE DETAIL ON KEY SUBJECTS
[togglegroup]
[toggle title="Milk Production"]
[/toggle]
[toggle title="Average Pasture Cover"]
[/toggle]
[toggle title="Pasture Growth"]
[/toggle]
[toggle title="Supplements and Feeding"]
[/toggle]
[toggle title="Young Stock"]
[/toggle]
[toggle title="Nitrogen and Fertiliser use"]
[/toggle]
[toggle title="Effluent"]
[/toggle]
[toggle title="Pasture renewal and cropping"]
[/toggle]
[toggle title="Wintering"]
[/toggle]
[toggle title="Mating"]
[/toggle]
[toggle title="Animal Health"]
[/toggle]
[toggle title="Climate data and Comparisons"]
[/toggle]
[toggle title="Health and Safety/HR"]
[/toggle]
[toggle title="Financial"]
[/toggle]
[toggle title="Management Team"]
[/toggle]
[/togglegroup]
Milk Production, Average Pasture Cover, Pasture Growth, Supplements and Feeding
Young Stock, Nitrogen and Fertiliser use, Effluent, Pasture renewal and Cropping, Wintering,
Mating, Animal health, Body Condition Score, Lameness, Metrichecking, Magnesium and Calcium,
Climate data and Comparisons, Health and Safety/HR, Financial, Management Team
Want the notes in your email? – CLICK HERE